Last work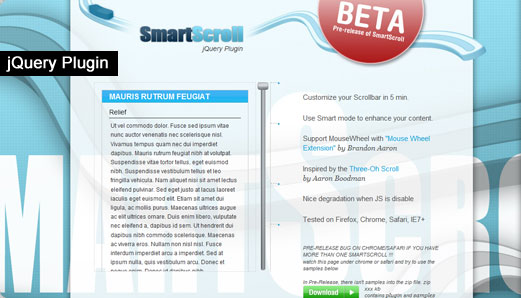 SmartScroll jQuery Plugin
Employement : Freelance
jQuery plugin SmartScroll + his dedicated page.
Comments : This work is still in beta. Test it and send me feedback.
Links:
What can I do for you as a web developer ?
You need a website to expand your business or to inform people about any activity.
You need an application or a mini-game in Flash to improve a website.
You already have a website and you need to modernise it with new functionnalities.
You have an old design and you want to change it with a new fresh design.
Use the contact form and describe your needs.
This way, we can start a discusion to find the web solution that fit with yours expectations and your budget. Do not hesitate to fill the form with any details that can help me to understand what you really want.
Rss Feeds
Last articles from labs | RSS
Sat, Mar 5th 2011, 14:34

Fri, Apr 23rd 2010, 12:07

Fri, Apr 16th 2010, 05:30
Last Posts from Blog | RSS
Thu, Jan 26th 2012, 13:19

Fri, Sep 9th 2011, 11:07

Thu, Sep 8th 2011, 15:37